FAQ's
Learn more about our complete line of nursing pillows and breastfeeding products. We're here to help with any questions or concerns you might have!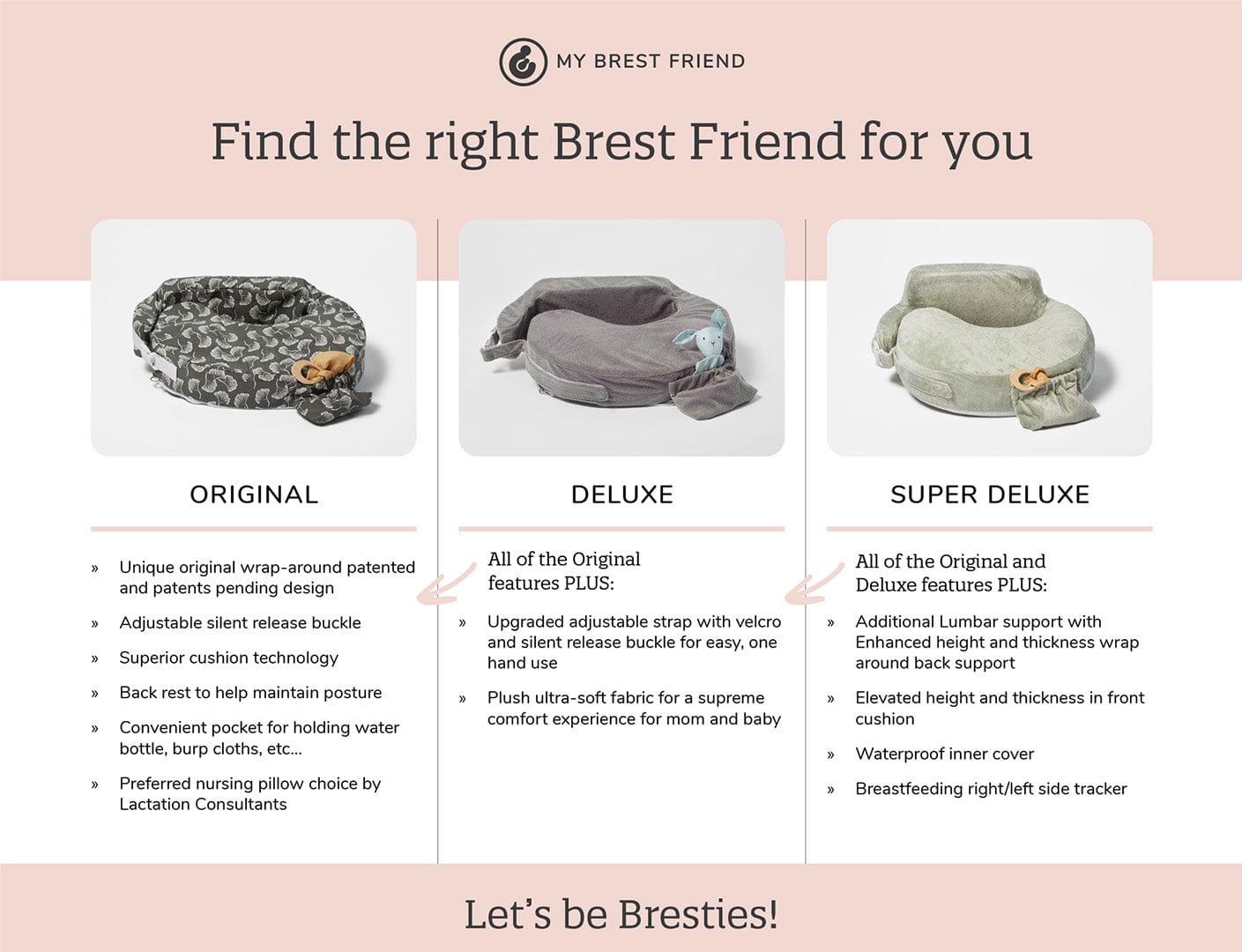 WHAT IS THE DIFFERENCE BETWEEN YOUR REGULAR AND DELUXE NURSING PILLOW?

Both models have all the same supportive, patented My Brest Friend features. The deluxe model offers baby-plush soft fabric and a double-featured strap that combines velcro for easy-on and the silent-release buckle for a quiet removal that won't wake a sleeping baby.
WILL NEW SLIPCOVERS FIT MY OLD MY BREST FRIEND NURSING PILLOW?
WHAT FABRICS ARE USED TO MAKE MY BEST FRIEND NURSING PILLOWS?

The breastfeeding pillow is made of a recyclable foam and covered by a removable, machine-washable cover. The cover is made of 100% cotton for the original nursing pillow, and 100% polyester for the deluxe nursing pillow.
WHAT SHOULD I DO WITH MY PILLOW WHEN I AM DONE BREASTFEEDING?

Because of the personal nature of this breastfeeding product, we recommend not passing it along to other mothers. You can place your My Brest Friend nursing pillow with your other recyclables. Some moms use My Brest Friend as a support for their own activities like sewing, etc., and some use it as a play pillow for their baby learning to sit up.
CAN I USE MY BREST FRIEND TO NURSE TWINS?

Yes! Many mothers use My Brest Friend to nurse twins. As long as the babies are small enough to fit onto the pillow, this should work well for all three of you. You can also use our My Brest Friend Twins Plus pillow.
WHY ARE THERE TWO BUMPS ON ONE SIDE OF THE PILLOW SURFACE?

These are called feeding risers and they raise the baby's head just a bit, aiding ingestion and digestion. We incorporated this feature into our design based upon the recommendations of lactation consultants.
I JUST GAVE BIRTH AND MY BREST FRIEND DOESN'T SEEM TO FIT – WHY?

Within the first week of giving birth, a woman's uterus continues to be enlarged. As your uterus begins to shrink over the course of the first week postpartum, the pillow should begin to fit more comfortably.
WHICH MODEL PILLOW WILL BE THE BEST FIT FOR ME?

We cannot say exactly what size will fit best because we produce the pillows to be one size fits most. We try to fit as many body shapes and sizes as possible, but we cannot fit them all. However, to help you choose the pillow that is right for you, we can provide an approximate range. The Original, Deluxe or Super Deluxe could be a good fit if your waist is within the approximate range of 28-inch waist minimum to 44-inch waist maximum. We also offer the Twins Plus pillow model which could accommodate approximately a 32-inch waist minimum to a 46-inch waist maximum comfortably. Please note these approximate size ranges are not a guarantee.
WHAT IS THE WEIGHT LIMIT FOR MY BABY TO USE MY BREST FRIEND?

The pillow supports babies up to 18 months and about 20 pounds. More importantly is that you and your baby are comfortable.
WHY IS THE FOAM CORE OF MY PILLOW YELLOW, OR PARTIALLY YELLOW?

Sometimes the pillows are made with white foam, and sometimes yellow foam. They are both good, and one is not better than the other. Occasionally, white foams over time may turn a bit yellow because of their exposure to air and aging. Foam that has turned yellow is still perfectly safe and as good as it was when it was white. Exposing the foam to direct sunlight will cause the foam to turn yellowish.
WHY DOES THE FOAM IN MY PILLOW HAVE A BIT OF A FUNNY SMELL?

If your foam has a slight smell, it is not harmful. It just needs to air out a little more. We recommend taking the cover off and exposing the foam to the open air for 12-24 hours. Do not place it in direct sunlight.
WHAT IS THE WATERPROOF COVER UNDER THE CLOTH COVERING ON THE SUPER DELUX MODEL, CAN IT BE REMOVED?

The waterproof inner core cover is a removable cover. This safeguard feature is included with the Super Deluxe model and available for purchase separately for all the other models. The waterproof cover serves as additional protection against spillage and blowouts and protects the foam from getting soiled. Spills and stains can be wiped clean from this inner cover with warm water and mild soap. Waterproof covers are available for purchase separately for the Original, Deluxe, and Twin/Plus pillow models.
CAN I PURCHASE MY BREST FRIEND PRODUCTS IN THE UK AND EUROPE?

Yes, we have a distributor in Europe who can assist you. Please view the website: www.babywild.de or contact them via phone at 0 89 / 51 46 98-0 to place an order.
ARE EXTENDER BELTS AVAILABLE?

We always strive to provide the most supportive and safest products for mom and baby and value every experience. Currently we do not manufacture extender belts.  

Our research and development teams are always working to improve the product and are still working on options that do not change the desired fit and support expected from our product.   
DOES THE MBF PILLOW COME WITH A WARRANTY?

We guarantee the product for one year for manufacturer defects. Please email us at info@mybrestfriend.com for assistance.
WHY BREASTFEED TWINS TOGETHER?

There are many reasons to consider breastfeeding your twins simultaneously including saving time and producing more milk.
CAN BREASTFEEDING TWINS TOGETHER SAVE TIME?

Yes. Breastfeeding twin babies at a time is usually faster than breastfeeding one baby after the other.
WILL THERE BE MORE MILK PRODUCED?

Research has demonstrated when mothers of twins breastfeed simultaneously, they have a higher prolactin level than if they breastfeed their babies one after the other. Prolactin is the key hormone responsible for signaling milk production, so more prolactin may mean more milk.
HOW DO I DEAL WITH THE LOGISTICS OF FEEDING TWO BABIES AT ONE TIME?

It can be difficult to bottle feed two babies at a time but with the help of the My Brest Friend Twins Plus nursing pillow, both babies can receive your attention at once. Take one baby, put them on and get latched. Once securely latched get the other baby and put them to the other breast. The breastfeeding pillow supports babies up to 18 months and about 20 pounds. More importantly is that you and your baby are comfortable.
Not finding what you're looking for?