While using a firm, well designed, and safe nursing pillow is one of the most supportive things you can do for yourself and your baby when feeding, it's important to know that nursing pillows should be used for feeding ONLY.
Nursing pillows that are fluffy, cushy, and soft with rounded edges, and designed to provide multiple functions, other than nursing or look like they could be used for functions other than just nursing can actually end up being dangerous.
Why? We know that when baby falls asleep peacefully after a good feed, it is tempting to  leave them happily resting there with a full tummy and with their favorite person nearby – YOU.
However this is not a safe choice. We have purposely designed the My Brest Friend pillow NOT to be fluffy and cushy like other popular U shaped nursing pillow designs because it has tragically been reported that babies have struggled or even stopped breathing while falling asleep on these pillows.
WHY CHOOSE THE MY BREST FRIEND PILLOW FOR YOUR BABY'S SAFETY WHILE NURSING:
STRUCTURED PILLOW CONSTRUCTION

The My Brest Friend pillow is firm and flat, intentionally not rounded, or soft and cushy so that your baby is more likely to stay awake for better feeding, and for a safe airway when the baby falls asleep after feeding.

This is also important for premature babies who need to be kept awake to intake the necessary amount of milk for weight gain.
Right angles refer to the sharp edges all the way around the MBF pillow. Nothing about the MBF pillow would lead a mom to think they could leave baby to sleep on the pillow unattended as baby could easily fall off the top portion.

This is in comparison to other popular soft U shaped and other cushy nursing pillows that could leave a mom to think that baby can sleep comfortably on the pillow after a feed. The issue arises if baby rolls into the U part of the pillow or if the baby's face gets lodged against a fully portion of the pillow and their airway is restricted due to the soft fluffiness of the pillow and the baby can end up in contorted and airway obstructed positions.
Although the term security fence seems like a must provide safety, it is simply a term used by popular brands to ensure your baby cannot roll off the pillow and hurt themselves. However, this security fence could be something that blocks airways if your baby falls asleep on the pillow and if the baby's face is against the security fence. Air obstruction could result.
There are countless U Shaped and crescent pillows on the market. However, many moms innocently see the U-Shaped area as an ideal place to put their babies to sleep after a feed. This again could cause issues if baby rolls over, and their airway is blocked by the soft, fluffy pillow or their body becomes contorted and the airway is blocked.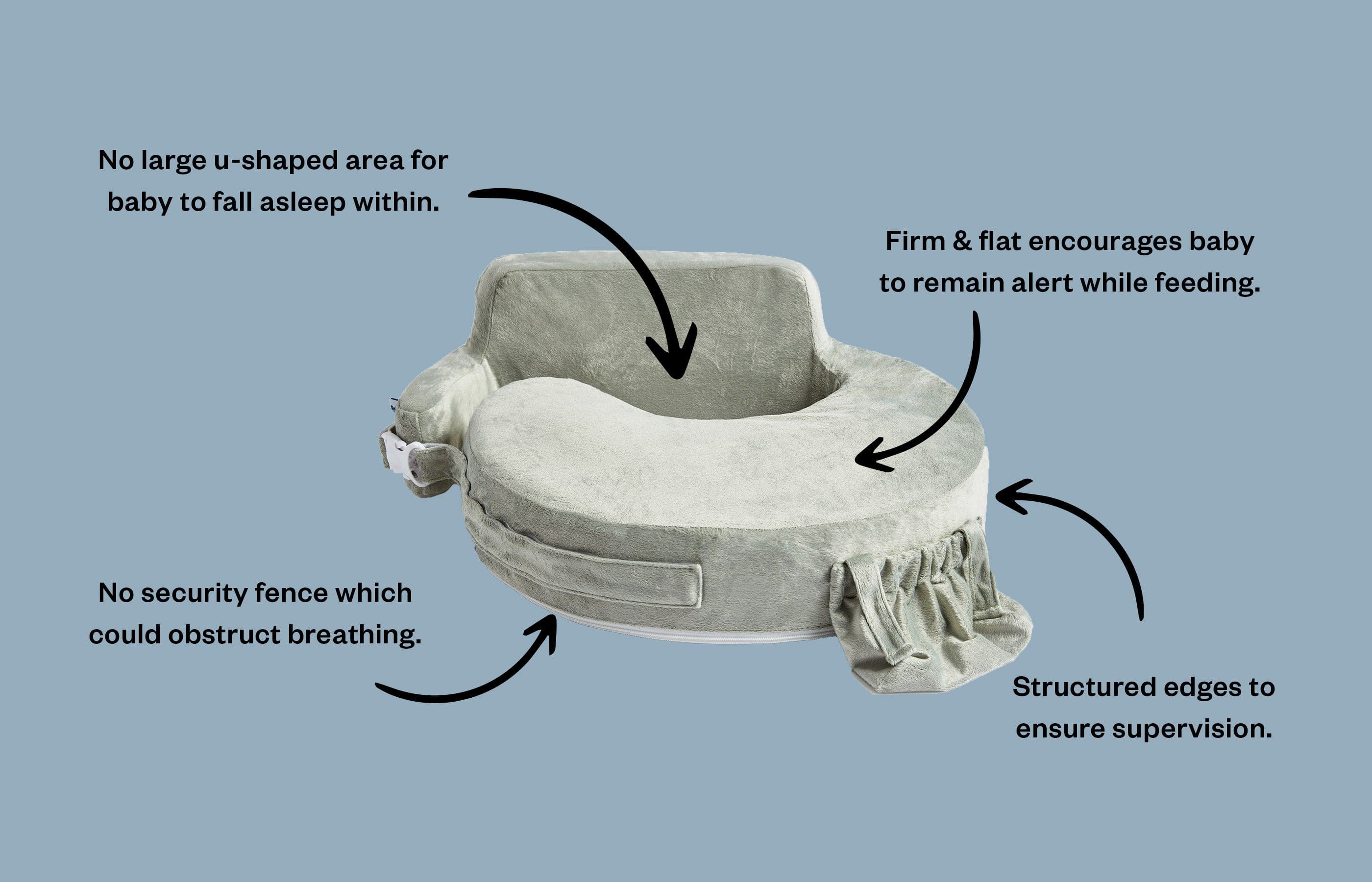 READ THE LATEST ARTICLE BY NBC NEWS WHICH CREDITS THE MY BREST FRIEND PILLOW AS THE GOLD STANDARD OF DESIGN AND SAFEST OPTION.

Do you have any questions about the safety element of the My Brest Friend Pillow?
Contact Us