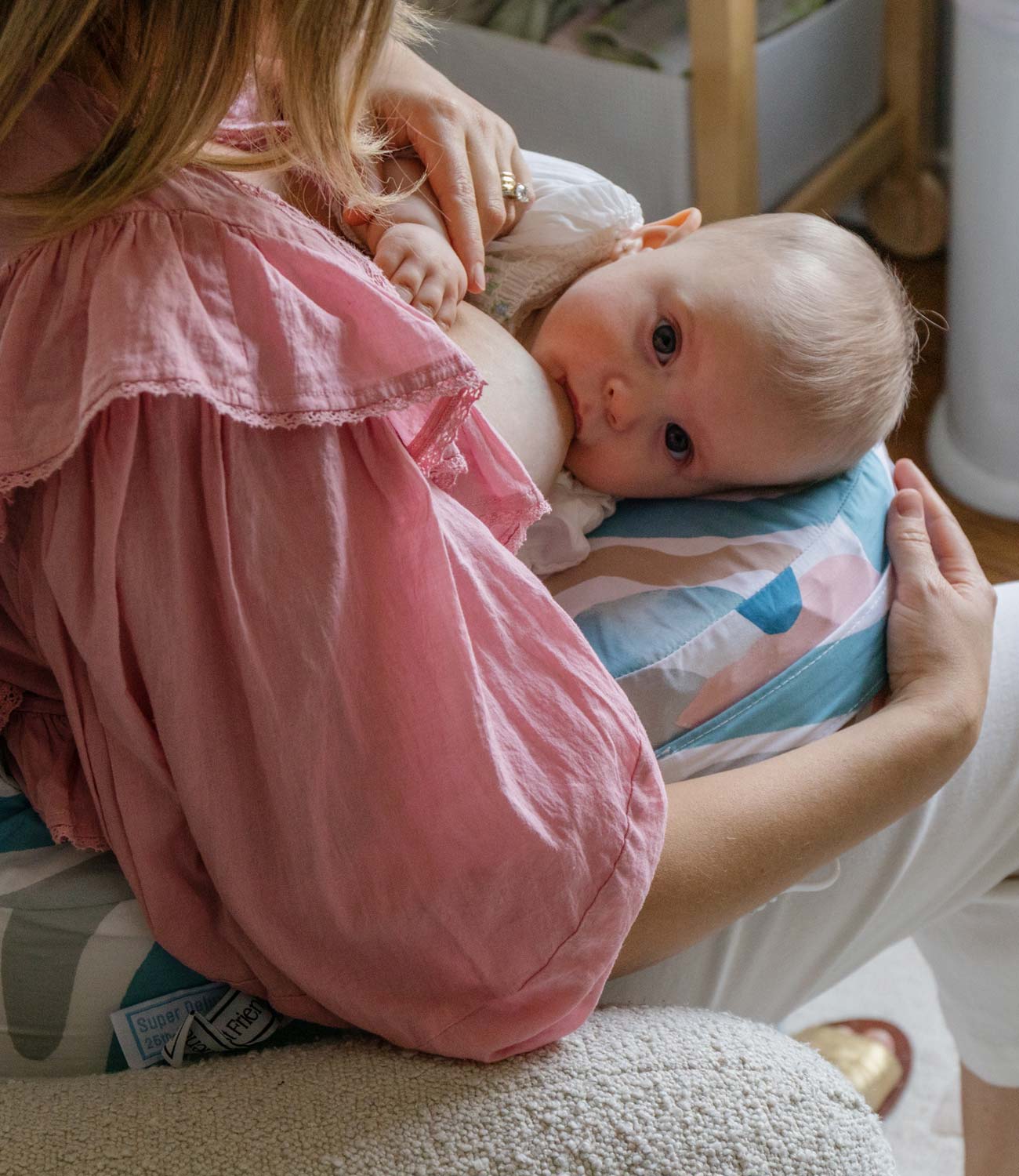 LILLIAN FARAG X MBF COLLABORATION
Founder Andrew Zenoff and the MBF team have an incredible passion for Mom's who are "so special and do so much" and believe they deserve to be celebrated by being surrounded by uplifting energy.In celebration of our 25th anniversary at MBF we wanted to launch our best in class Super Deluxe and Super Deluxe Professional pillow to celebrate all the moms that have supported My Brest Friend over many years. We decided to look for a designer that would bring something fresh, fun, modern and most importantly, inspiring to our collection.Enter the wonderful Lillian Farag, an incredible artist with a fresh palette, a passion for modern, bright, and feel-good design as well as a new mom herself. Lillian has created a piece that we are incredibly proud to introduce to you, with a limited amount of these collectors pillows available, we hope that the moms who choose to purchase them enjoy pockets of joy every time they are used.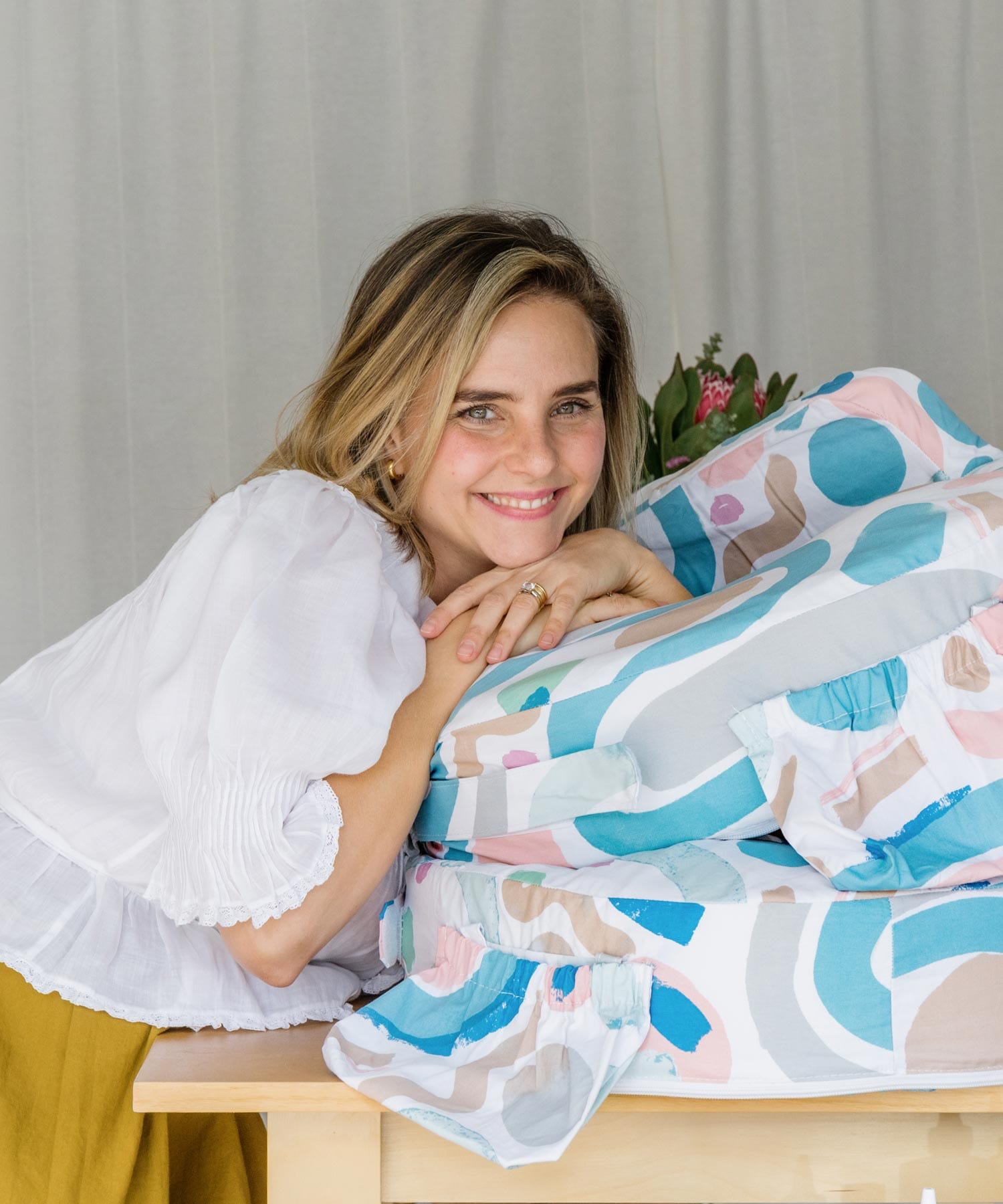 Meet Lillian Farag, the artist behind the design.
Lillian, tell us a little bit about yourself, your new role as mother and of course your work?

Hi! I'm Lillian. I'm an artist and textile designer living in Los Angeles, California

I started off as a surface print designer working in the fashion industry for many years before breaking off on my own and producing my own patterns and products. I've always loved working with my hands, and I wanted to start creating work that I felt passionate about. I love painting and working with different materials.
When approached to do a collaboration with My Brest Friend, what were your initial thoughts?

I absolutely loved the idea of tapping into the maternity/ baby space. I've always embraced new projects but hadn't yet worked on any projects that involved nursing etc. Being a new mother myself it felt quite timely! It's funny how things like this can literally fall in your lap (*wink wink*) at the perfect time.

Where did the inspiration come from for the striking pillow you have created?

After chatting a bit about the direction of the project I thought, how nice would it be to create something with organic movement, keeping it soft and gender neutral? It's a bit hard to come by modern looking patterns that don't feel overly gender specific. Simple " non- theme" nurseries seem to be trending more popular these days and it's somewhat difficult to find expressive patterns that fit that idea and saw this as an opportunity to explore this idea a bit more.
What type of mother do you think will be drawn to this pillow design and why? Color and design played a huge role in making this pillow appeal to the mom that is not looking for a definitive "theme" per say but overall drawn to print without making it feel overwhelming. What do you think of the MBF nursing pillow? The MBF nursing pillow was the first nursing item I owned with my first child a few years ago and I found it incredibly helpful in navigating this new space as a first-time mother. It was the perfect support I needed to get the baby to latch properly. For my second, it was a no-brainer that I would be purchasing a new one to help aid me through this process once again. I'm so thrilled to be a part of this new launch and I hope many find it as helpful as I did my first time.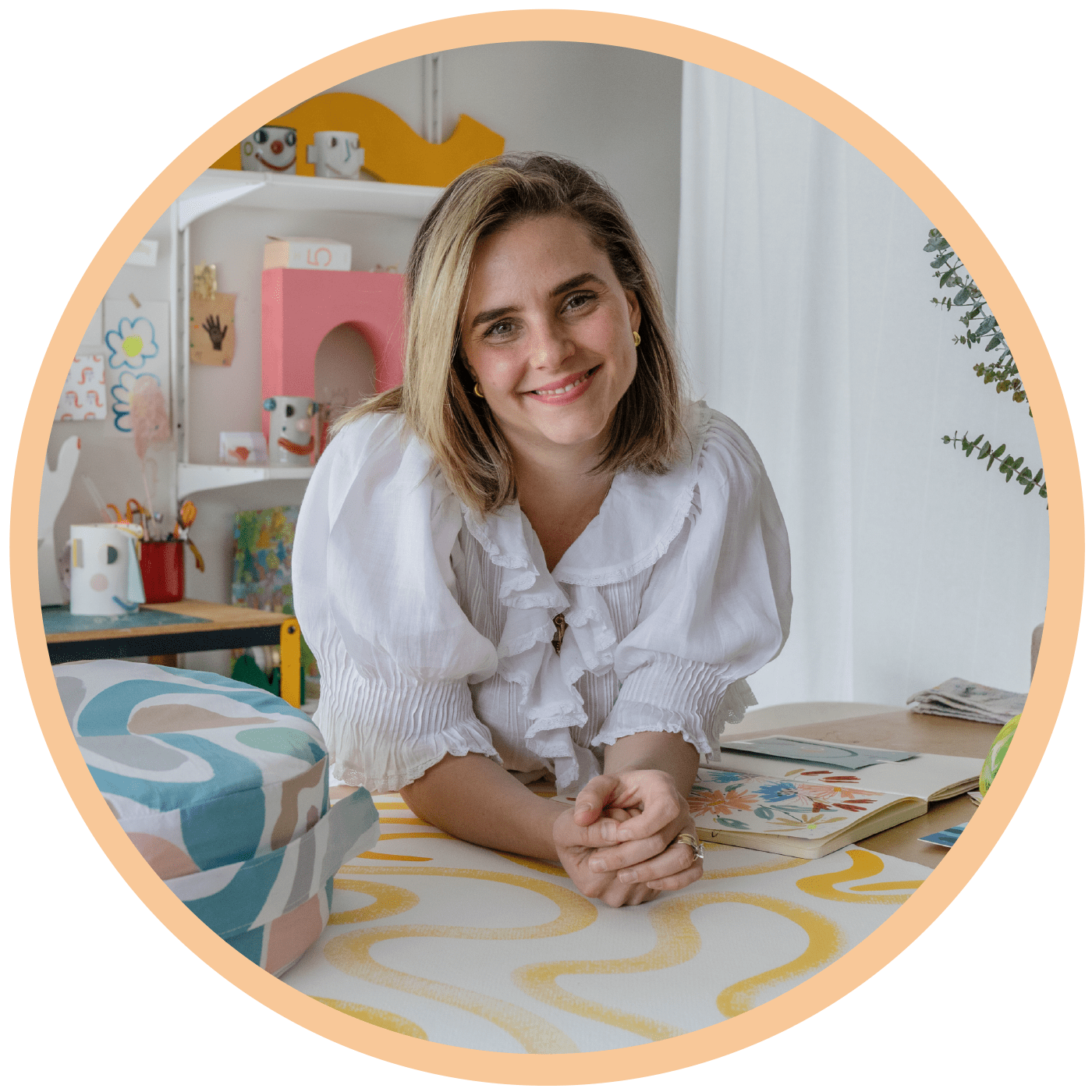 Designer Bio - Lillian Farag:
Lillian Farag is a free form and free-spirited artist, with a love for all things playful and expressive. Pulling inspiration from colors found in life and nature, she adds her own twist and perspective to each aspect of her work. All work is designed at her home studio in Los Angeles, California.

Description + History of Brand:

Lillian has married her obsession with illustration, painting and materials to make up her own unique collection. Her brand consists of lively designs that often incorporate expressive florals, washy abstracts and bright colors. She loves drawing inspiration from the simple things in life and expressing them playfully through her work, which often reflects contrasting concepts: unrefined yet sophisticated, delicate and rough, feminine but bold.